Welcome to North Country Troopers Assisting Troops
In April 2013, the New York North Country Troopers Assisting Troops (NYNCTAT) was formed by a group of New York State Troopers in collaboration with U.S. military members. The mission of this group is to raise local and regional awareness, as well as to provide local recreational activities and events for Fort Drum service members and other Armed Forces Members that were wounded, injured, or became ill while protecting our freedom and country.
DONATE TODAY
ABOUT NCTAT
TROOPERS ASSISTING TROOPS | NORTH COUNTRY, NY

Learn more about our talented fishing guides that help make this experience a memorable one.

A big thank you to all of our donors. Without you we would not be able to continue to serve.

If you are and individual or business who would like to be involved, we are always looking for support.
4th Annual Fishing Trip For Soldiers
NCTAT Making a Difference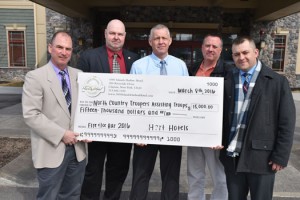 North Country Troopers Assisting Troops raises fifteen thousand dollars so that 100 Veterans can go fishing in September at the annual NCTAT Fishing Trip for the chance to reel in a big catch. Read more about this incredible donation here.