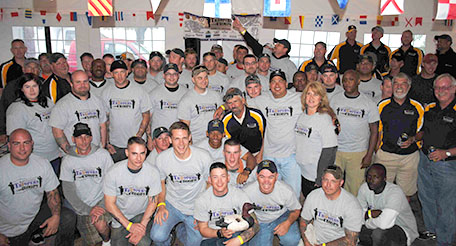 This organization has been graciously supported since its inception. Looking back at our first meeting and "brainstorming" session, we could not even imagine the work ahead of us to finance our efforts. What we soon found is that the North Country, as a Community, was willing to get behind  endeavors supporting our Military, and subsequently realized the North Country Troopers Assisting Troops was an excellent means to make sure our Military members are recognized positively.
To our Soldiers, Community, Sponsors, Supporters, and Volunteers…….North Country Troopers Assisting Troops "Thanks You" for all you have done.
You are each responsible for our overall success, and we are positioned to support our Service Members well into the future!!!
DAVE AND KATHY IRWIN
JIM BELEMO
JAMES LEPINE
CHARLIE AND NANCY HINMAN
JIM AND MARY COLE
JOHN PROVANCE
DAVID AND ALLISON KRAUSE
BOB EWING
CLAYTON FIRE DEPARTMENT
US BORDER PATROL, ALEXANDRIA BAY
ALEX BAY FIRE DEPARTMENT
NEW YORK STATE POLICE
US COAST GUARD, ALEX BAY
BOB AND PATTY MONDORE