HELP US SUPPORT OUR HEROS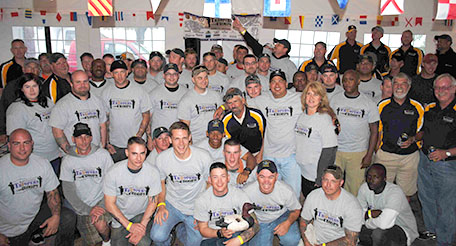 Our organization is comprised of a volunteer work force of both active and retired New York State Troopers. Many of our active members are retired Military, having served in Vietnam and the more recent combat theaters. We also have active members that were not Military, who were drawn to our organization as a way of giving back to our service members. As our organization grew, our respective families became involved in our organization, and we evolved into a stronger core group that has a common purpose…..to show appreciation, and gratitude, to those service members that protect the freedoms that we all take for granted.
In order to Support our Troops, we have engaged in fund raising efforts, and have elicited the cooperation of both private and corporate sponsorship. We could not operate without this support. As such, we have positioned this organization to be financially stable, with funding streams that appear to be in place for future success.
Our events and donations since inception include the following:
Annual Troopers Assisting Troops Fishing Trip on St. Lawrence River, with Shore Appreciation Dinner (accommodating approximately 100 soldiers – currently preparing for our 4th year – 2016)
Supporting families of fallen soldiers
Supporting soldiers who had tragic events happen to their immediate families.
Supporting the Fort Drum Sled Hockey Team
Supporting the Honor Flight, funding flights for chaperones for those service members attending Washington D.C. for the Honor Flight program.
Supporting service members in need with private requests.
Supporting a local project called Homes for Our Troops, contributing to a local effort to build a home for a combat injured Veteran.
As we grow and have available resources, this organization is receptive to entertaining all requests for assistance from our military community, and if requests are consistent with our bi-laws, we will gladly help in any way possible.
None of the above can be done without the help of our sponsors and associates. We would encourage anyone who believes in our cause, and believes in our soldiers, to make a small contribution. Please know that we have a very small operating budget, and your donation will go for the most part, in its entirety, for its intended purpose – Supporting our Troops.
We, as Troopers, are proud of what we have accomplished. The feedback we get from our Soldiers is very positive. We are hopeful that we are giving back just a little to those that have given so much, and we are confident that our North Country Community feels the same way.
Please join us and become a part of this movement!!!
TAX DEDUCTIBLE DONATIONS
All tax deductible donations go directly to support the active and retired soldiers that we honor, acknowledge, and show our appreciation for.
North Country Troopers Assisting Troops is made up of an un-paid volunteer staff. Our operating costs are minimal, and consist of a paid book keeper, and some inventory of promotional T-shirts and apparel. We further do own an enclosed trailer that we use to attend community events, and facilitate transportation of organization related items. As such, we are able to garner community recognition, which in turn, results in financial contributions in support of our cause. A donation to North Country Troopers Assisting Troops is a donation that directly goes to the persons our supporters want to help……OUR SOLDIERS!!!
North Country Troopers Assisting Troops is a registered not-for-profit Corporation under section 501(c)3  of the Internal Revenue Code (IRC). You can deduct contributions made to NCTAT under IRC section 170.  Our tax identification number is 46-2668825. Your tax deductible donation to us can be made to the following address:
North Country Troopers Assisting Troops
32731 Cottage Hill Road
Redwood, NY 13679
SPONSORSHIP
If you are interested in becoming a sponsor, we have established a series of sponsorship levels:
Gold – $500 Donation
Silver – $250 Donation
Bronze – $100 Donation
Please know that all donations are tax deductible and we will gladly provide you with a receipt for tax purposes. We will gladly place the names of major sponsors (individuals, foundations, or en memoriam) on our Sponsors page. Inclusion on this page is completely optional.
Contact us at info@nnytroopers.com for more details on becoming a sponsor.
TIME
NCTAT hosts and participates in various events for our troops, many of which take place in the North Country.
Donating your time to help out with these events is often just as valuable as the donation of goods or money. We would love to have more volunteers to help with these events.
Please contact info@nnytroopers.com for more information about becoming a volunteer or click here to fill out our online contact form.